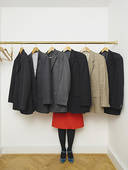 Too often, we fall into the trap of defining ourselves by the things that take up the biggest chunks of our time. When we do this, we sometimes neglect the other important pieces of ourselves that make us who we are.
It took a major crisis (any woman will agree this was a crisis) this week to remind me of this.
It was 12:30 p.m. on Tuesday.  I had a normal day, packed with back-to-back meetings.  My last meeting of the day was with a favorite client and that morning, she asked me to go to the Keith Urban concert with her that evening. Really, I hadn't been to a concert in years.  And that was the problem…I also hadn't dressed to go to a concert in years!  I have mommy clothes that I wear in the evenings and on the weekends with my family and I have work clothes that I wear during the day with my clients.  I have nothing in between.  Nothing!  Especially nothing that seemed appropriate for a concert where Keith Urban might actually see me in the crowd! (Love you, Jack!)
After my lunch meeting, I did some quick calculations to figure out how much time I had to go shopping before my next appointment. I discovered I had approximately 18 minutes to speed into the nearest shopping mall and pick out something concert-y to wear. 18 minutes.  This was a real test.
Of course, you can't find anything you need when you need it.  And then there was the issue of time.  17 minutes….16 minutes…..15 minutes…..Ugghhhh…
Somehow, I ended up in the business suit section. I had to shake myself, clear my head and march right on over to the "fun" section.
As I wandered around Macy's, I felt bad.  My husband probably gets tired of seeing me in mommy clothes.  I know that sometimes, I get tired of my mommy clothes.  (But, I know who doesn't mind: my kids!)
So I vowed at that moment to stock my wardrobe with more "fun" clothes  – things I can throw on to go to a concert, things that help me break out of my two major "personas" in life (executive and mommy) and let me be just, well, me.
The 18-minute shopping dash ended successfully. I found a little white tank top with a few silver sequins and it was perfect for me!  It made me feel energized and lively and reminded me of another aspect of myself that sometimes gets pushed aside in favor of my more demanding roles.
Don't get me wrong. I love my family and I love my work. But don't be surprised if you see me vacuuming the house or taking a business meeting in my new sequined tank top…….